Insulation Removal, Installation, and More!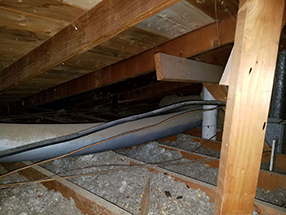 There are many factors that can negatively affect the insulation in your attic and make it inefficient. Water damage, pests using it for nesting, and degrading from years of use are only a few of the things that can harm it. If you've noticed that your energy bill is rising, it may be happening because of these factors.
Our professionals will be happy to come out and set about work on whatever solution will be best suited for your attic. The insulation may simply need some additional padding installed to help it properly regulate the temperature or might need to be removed if damaged. If the latter is the case, our team will do so safely so that no particles enter the air of your house. Then, they will be able to install fresh material quickly and get your home back to being like new again.
Attic Cleaning Available
Attics are usually areas of households that do not receive loads of visits from family members and therefore, in time they may become nests for debris, pathogens and more. If there's a thick layer of dust in your attic, it's best not to just ignore it! Mold can grow and spread because of this dirt, it may be clogging the vents used to keep the air circulating, and worst of it all, it can pollute the air of your home and cause health hazards. Allow us to clear it all out quickly and easily, leaving your attic and home far safer.
Does Your Attic Need Decontaminating?
If rodents have invaded your attic recently, you should also consider getting it decontaminated. They leave behind diseased waste that will very easily get on your stored belongings, as well as your shoes. Either thing can bring nasty bacteria into your home that cause health risks. Let our technicians use sterilizing spray safely on every bit of your attic to make sure this won't happen! They can also apply rodent proofing, to guarantee that these uninvited guests won't be returning!
Why Wait Any Longer?
It's time to get your home thoroughly insulated and safe for you, as well as your family! Make sure your attic stays rodent and pathogen free for good. Our technicians at Air Duct Cleaning Sherman Oaks have seen it all and have successfully cleaned up and decontaminated dozens of homes. Contact us today, and our team will get to work right away.