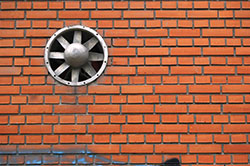 Dryer vents get used on a daily basis and sometimes, even a few times per day. For this same reason, they should be frequently maintained and cleaned. If you are still not clear to why exactly you need to clean your dryer vents, then maybe the best thing to do is take a look inside? You will be fully surprised by the sight!
What Accumulates in the Dryer Vents?
Quite often, people refuse to believe the amount and concentration of lint that tends to accumulate within dryer vents and dryer hoses. As a matter of fact, homeowners frequently see dryers as machines that work with clean clothes and refuse to associate them with any kind of filth or byproducts. Water and lint create great accumulations that are sole enough to clog the whole dryer vent. Beside the lint, the dryer vents are sometimes even further obstructed by nests made by birds or rodents.
What Do Dryer Duct Experts Say?
Specialized air duct and dryer vent cleaning services state how professional dryer vent cleaning should be performed every six months when the equipment is placed upwards and every twelve months when it is mounted straight. Dryer vent cleaning should definitely be put on the maintenance chores priority list, since failing to care for this appliance may lead to disastrous consequences like fires or leakages of carbon monoxide in your home. With these potential hazards in mind, it's important to take matters seriously and not leave them up to chance.
DIY Techniques to Maintain Your Vents
There are also certain measures that you can take on your own to avoid the possibility of your dryer duct becoming a potential danger to your home. Firstly, regularly inspect the state of your dryer vents. This is logical, but more than often overlooked and hence the reason so many unfortunate incidents happen - make sure they won't happen to you! Secondly, you can also try to regularly clean your dryer vents on your own. It should however be noted that this will absolutely not substitute the must-have routine professional cleaning.
Don't Wait Till the Last Minute
Even though your dryer vent can survive for some time while not in a good state, it's important not to play with this time for too long. Contact our team of professionals at Air Duct Cleaning Sherman Oaks and they will make sure your dryer vent will be squeaky clean all over again!